Health
Local News
Health Minister Donates a Van, 5 Motobikes To Presbyterian Health Services
Hon. Kwaku Agyemang Manu Donates a Van, 5 Motobikes To Presbyterian Health Services.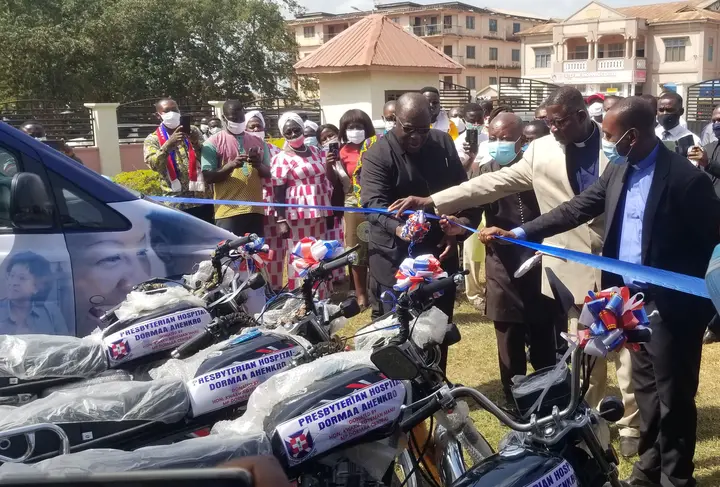 Health Minister and Member of Parliament for Dormaa Central, Hon. Kwaku Agyemang Manu today, donates a van, 5 motorbikes to the Presbyterian Hospital, Dormaa.
According to the Minister, the church has done a lot in the health care industry especially Dormaa Central. That he will continue to support the church since his mother is a Presbyterian.
He said the Hospital is doing well in outreach program and therefore he has to support them. So the van and the motorbikes will help them visit the rural areas to deliver healthcare.
Hon. Kwaku Agyemang Manu is also supporting his Methodist church to build the first Girls' (Welsey Girls) School in Dormaa and will also help the Presbyterian church to build boys' too.
Honorable has done a lot for the constituency when it comes to Health, he donated x-ray and other vital equipments to Presbyterian Hospital.
The Presbyterian Church of Ghana honored Hon. Kwaku Agyemang Manu with a citation for his good work the the country and towards the Presbyterian church in health Services.
The citation was presented by the Moderator of the Presbyterian church of Ghana, Rt. Rev. Prof. Obiri Mante, that he is happy to hand over such a citation to the him.
The citation speaks about the great works of Hon. Kwaku Agyemang Manu towards the Presbyterian Health Services and his kind attitude.
The Moderator thanks the Addo's government for their support to the Presbyterian church and it Health facilities. He cleared that, he never said Prez. Nana Addo is Jesus.
"I never Said Prez. Nana Addo is Jesus", he said. But he appreciated him for his good works for Ghanaians and the presby church.
He finally advised Ghanaians to desist from any violence during the 2020 December elections but to Campaign for peace rather.