Man nearly chop his wife on live TV show
Civilizations has really changed our life and culture and now we can't even separate right from wrong.
A man chopped a woman on live TV. This has made Ghanaians wondered what really is happening in Ghana.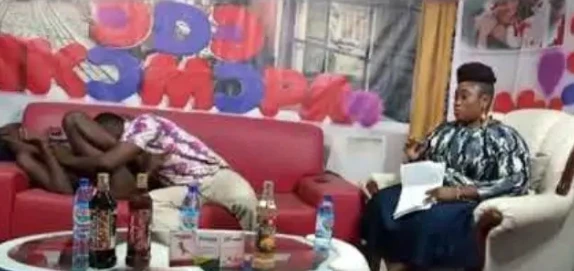 The couple were invited on TV Africa's "Odo Nkomo Pa" program, after these couple couldn't control their orgasm, they engaged in public entanglement like two dogs on live television. He chopped his wife on live TV.
Since the program "Odo Nkomo Pa" is for adults the TV station couldn't stop the live telecast, so they the couple chop themselves.
Is this indeed happening in Ghana? Children and and young people are being exposed to adult material on live TV and yet the National Mass Media Commission has not said a word about this case. The same thing happened with mallams and fake pastors and we still see them walking around freely.
The Mass Media Commission is a Government of Ghana agency which aim objective is registering, regulating, and monitoring the activities of media houses in Chana