Local News
Meet Asamoah Gilbert Who Recently Passed His WASSCE With All 'A's And Needs Aid To Read Law
Asamoah Gilbert, from Kwameasua, a community in Dormaaman Traditional Area who studied general arts in the "Free SHS" policy and successfully came out with flying colours in 2020 WASSCE results is spotted seeking for financial assistance to further education.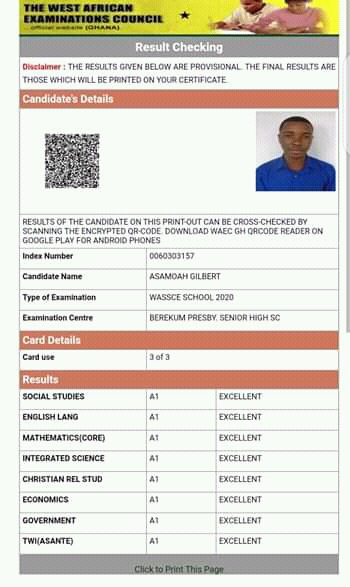 Brother Gilbert is a SHS graduate from Berekum Presbyterian Senior High School who completed this year, 2020. He excellently passed all the subjects he studied with grade 'A' which is filled in this media report.
When the reporter, Alex Konlan contacted Mr. Amponsah Eric, having the phone number, 0249343744 who is a tutor at Sunyani Senior High School this morning, Mr. Amponsah narrated that, the information about Gilbert is true and he is a relative to him in extended family system.
According to Mr. Amponsah, Gilbert's parents are peasant farmers in a Dormaaman community called Kwameasua and as a result, they are indeed handicapped to help push their only son who has passed his exams excellently to any higher level.
According to the report, Gilbert is willing to study law and is finding it difficult to even seek for university admission forms though attempts have been made to seek aid from National Scholarship Secretariat of which all has not been in fruition.
https://youtu.be/3BhxB02A2Mo
Brother Gilbert is falling on philanthropists and any touched hearts to come to his aid to further persue law even either in Ghana or outside Ghana to be one of the counting lawyers and even help to elevate his families as well.