Successful Ghanaian businessman, Togbe Afede XIV has explained that he rejected the ex-gratia paid to him by the Council of State Secretariat because he felt uncomfortable.
The statesman who is now being praised on social and traditional media has confirmed that he has returned a sum of GHC365,392.67 that he received from the Council of State secretariat as ex-gratia.
Providing clarity on his decision, Togbe Afede XIV has explained that he was propelled to take the action because he thought it was inappropriate for a short part-time work he did for the Council of State.
According to him, receiving such a huge sum of money in ex-gratia for that part-time job made him very uncomfortable.
"I did not think the payment was made to trap me, as is being speculated. I believe it was paid to everybody who served on the Council of State. However, I thought that extra payment was inappropriate for a short, effectively part-time work, for which I received a monthly salary and was entitled to other privileges. So, I was very uncomfortable with it," Togbe Afede XIV explained in a press release issued on Monday, June 6, 2022.
The respected businessman who is also board chairman of Hearts of Oak added, "I want to add that my rejection of the payment was consistent with my general abhorrence of the payment of huge Ex Gratia and other outrageous benefits to people who have by their own volition offered to serve our poor country."
Below is a copy of the press release: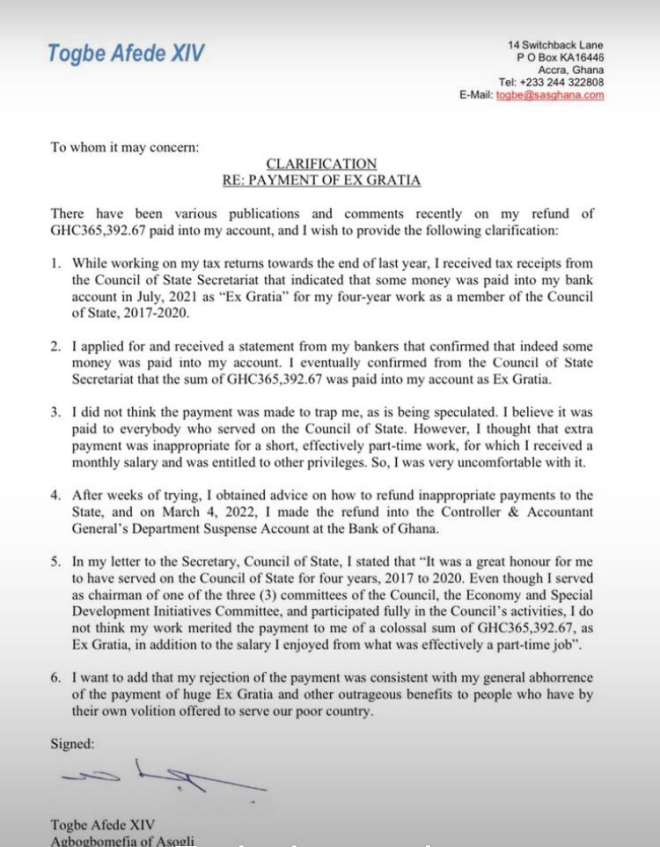 Kindly read all the Latest News, Entertainment News and gossips
here
. Follow us on
Facebook, Instagram, Twitter, YouTube and Telegram.