Health
Hospital Threatens to Sanction Staff for Revealing Patient's Information
Hospital Threatens to Sanction Staff for Revealing Patient's Information
Hospital Threatens to Sanction Staff for Revealing Patient's Information
The Upper West Regional Hospital in a Statement through its Public
Relations Unit, has threatened to take punitive actions against some staff for revealing private information of a patient at the hospital who happens to be a staff.
A health worker who was hit by a tricycle in Wa had her spinal cord fractured, this resulted in severe paralysis and due to this a neurosurgeon is currently needed to address the fettle.
The statement issued by the Public Relation Unit has it that, "Dear Upper West People and Residents From Upper West Regional Hospital PR Unit.
Warm Greetings from the Upper West Regional Hospital. We are responding to the following issue circulating on social media attached below:
In relation to the attached complaint flying on social media about the hospital, the individual posting this which is highly unfortunate as the sister of the patient is false because, it is the mother of the patient who has been available struggling to cater for this patient and according to her this person is unknown to her. The crust of this whole issue is that, the surgical team explained vividly to the patient her condition which she appreciated as a health worker as well.
In Ghana Health service, patients health conditions must remain confidential and needs consent before their divulged to any other person. Of which this "unknown sister" of the patient has breached.
The hospital Management believes that, this is against the patients charter and highly unacceptable.
Again, Management wish to use the opportunity to appreciate the zeal and support from the immediate patient relatives especially the mother who has supported the patient and also expresses her gratitude to all staff for the care so far.
The said patient is currently responding to rehabilitation and the surgical team is very optimistic that, the outcome of the rehabilitation would improve gradually.
The hospital however, has various channel sections within the hospital from the entrance to any service delivery point where clients (eg. Complaint boxes, complaint desk) can relay their complaints for prompt redress and not to resort to social media with their complaints.
We want to encourage the general public to remain calm and continue to seek quality health care services from the hospital for your HEALTH is our PRIORITY.
The Image Below Displays the private information being circulated by some Individuals as against the ethics of Ghana Health Service.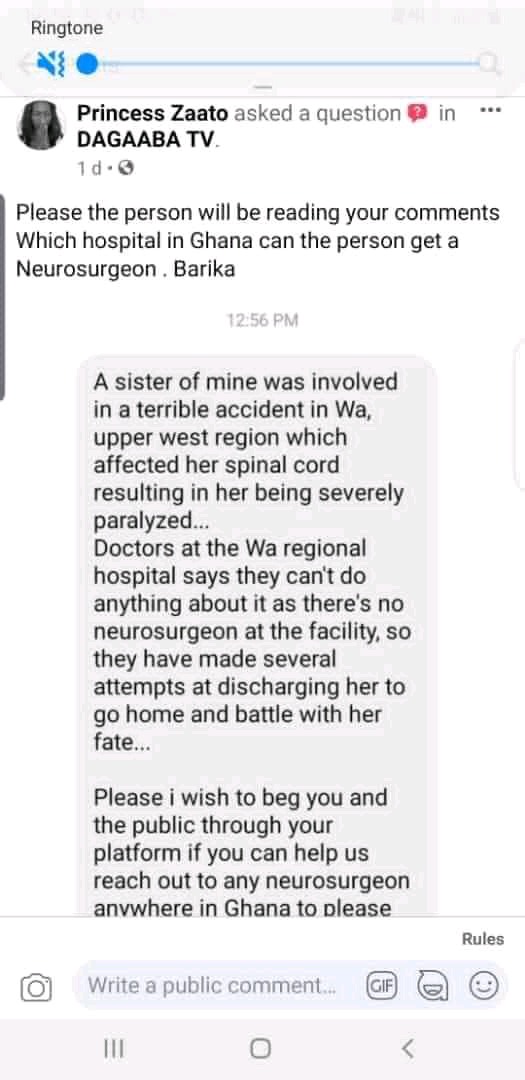 Source: Upperwestmedia.net